ABOUT Maes y Pant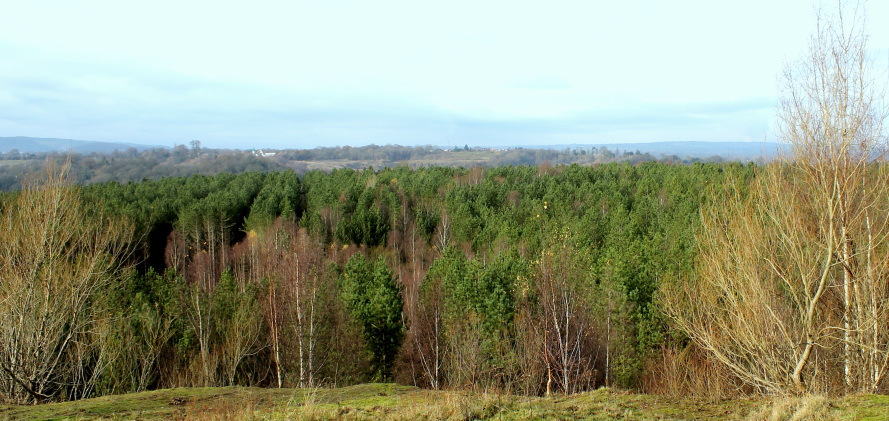 Maes y Pant is an attractive forested area set in the villages of Gresford and Marford near Wrexham run by the local communities, who welcome visitors on site, as does, Stanley, the old quarryman at the main entrance. A former quarry, it has wonderful views from the old quarry escarpment across the Dee Valley, with Liverpool on the horizon. The site has 2.9km of surfaced footpaths and more informal ones which are shown on information boards at the entrances. We welcome all visitors. Leaflets about the site can usually be found at the entrance and you are welcome to take one.

There is a woodland trail with easy access (this is currently being ref-furbished because of damage (Sep 2017)). Leaflets are available but run out quickly. However a wooden board shows the animals which are on the terracotta plaques in the trees on the green (all abilities) route.

There is also a woodland play area for younger children, details of which you can see in our News Section. We've also added a wizard, Gwyddion, wizard of the woods. These new additions aren't marked on the leaflets as yet. The play area can be found by following the 'made-up' path on the right side as you enter through the main entrance and to find the wizard you need to walk straight on and turn left at the first 'made up path. Both these additions are on the green route. Please note that the entrances to the site are through 'A' frames which prevent ready access by motor bikes, however this makes it impossible to take through double width pushchairs.
---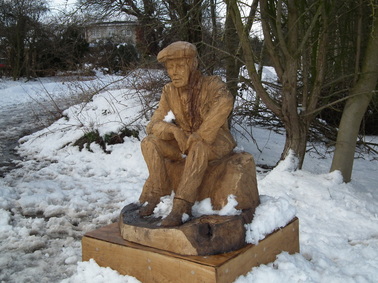 Stanley is named after a former manager of the old McAlpines quarry on this site. The name seems just right. He's there waiting during rain, shine - and snow. He was carved by local wood carver, Simon O'Rourke, for the live broadcast of BBC's One Show from Maes y Pant.


The site is privately owned, so please treat it with respect and because all have open access it doesn't mean you can do anything you like on site, if it causes damage or spoils the pleasure for others. We ask that you read the notices and obey them please. Thanks.

---
FRIENDS OF MAES Y PANT

Maes y Pant is owned and managed by the Maes y Pant Action Group (MyPAG). 14 villagers ( see below) have volunteered to be members of MyPAG and run the site for the benefit of the community, but it is privately owned. A lot of our work has been funded by grants. However, the sources of our funding are gradually drying up and we are increasingly reliant on financial support from the local community. Gresford Community Council have been helpful but it is our aim to be self supporting. If you would like to support us then please donate £10 per annum or £15 each family. Of course you can be as generous as you like and completing a direct debit would mean you wouldn't forget each year and we would have a good idea on likely income. Our bank is Nat West Bank, 33, Lord Street, Wrexham LL1 1LP Sort Code 55.81.42, Account number 90668235. Cheques should be made payable to MyPAG and sent FAO Anthony Lewis, 2 , The Woodlands, Chester Road, Gresford LL12 8NU.
All your money is used to improve the site and we can quadruple it as many grants ask that we put in 25% of our own money, so a little goes a long way. I hope you can see what good use your money is being put to.
If you have further queries please email to trevorbritton@btinternet.com

MAES Y PANT RECENT HISTORY
The land now known as Maes y Pant has been quarried for many years, latterly by McAlpines who were taken over by Carillion in 2008. News that the land was available to purchase came in 2006. Following a public meeting at Gresford Memorial Hall, a committee was set up and by December 2007 funds had been raised from Mersey Waste Holdings to purchase the land, with third party funding provided by Gresford Community Council and additional financial support from IMAGE. Funding to develop a feasibility study was provided through Northern Marches Cymru.

There were long delays in the legalities of transferring ownership of the land from the vendors. The land was originally purchased for quarrying in small parcels, each individual parcel (around 40 of them) had to be individually registered with the Land Registry, which was a very slow process.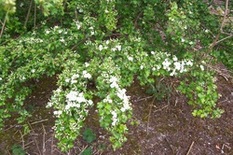 Maes-y-Pant Action Group (MyPAG) is a Company Limited by Guarantee Registered in England and Wales Number 06221374
Directors are: Jenny Adams; Joyce Ashley; Andrew Bailey; Trevor Britton; Michael Edwards; Ian Happs; Gail Caswell Jones;
John Leece Jones; Sue Kelly; Anthony Lewis; Jerry O'Keefe; Kim Patel; Robin Thomas; John Troth.
---
PRESENT DAY
Finally, at the end of March 2011, legalities were completed, £70,000 changed hands and the Board of the Maes y Pant Action Group now owns the former quarry site off Pant Lane.

This stage signified the end of the beginning of the project, and now it's time to move ahead with plans to improve the pathways, introduce signage, site benches, improve the environment for wildlife and encourage biodiversity.

A five year development plan for footpaths, signage and site maintenance has been agreed by MyPAG and will be implemented with help from suitably qualified professional help when required.

THE WAY WE WERE - SOME PICTURES FROM AROUND 1980
A collection of old photos, documents and invoices came to hand recently, dating back to the early 1980's which shed some light on the restoration work carried out on the land once quarrying had finished.

In 1980, Flintshire Woodlands quoted for planting 28,000 Corsican pine trees, 1,000 Japanese larch trees and 300 willow cuttings.


---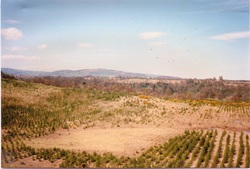 Also in May 1980, 90 kgs of lupin seeds were delivered – maybe people remember seeing these growing? There don't seem to be any around now, but if anyone has photos of the lupins flowering, we would appreciate copies for the website and archives
---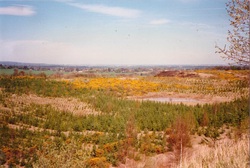 There is an invoice for 1981 which relates to weeding and rabbit control:

Then in 1982 4kg of Melilotus seed was sown. This is a type of clover, and by 1983 correspondence states that 'the Melilotus which was planted to improve site conditions is establishing well and although it appears to give a dense blanket in places, on closer inspection sufficient light is able to penetrate to the planted tree stock'.


---
FLORA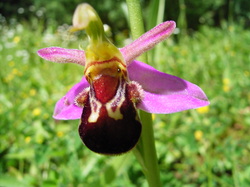 Over two hundred varieties of flowers have been identified in Maes y Pant, including helleborines and the rare bee orchid. Two of our volunteers are working during 2014 to identify as many species as they can, and have already found a new variety of orchid that we had been unaware of. The poor soil encourages a spectacular array of flowers throughout the spring, summer and autumn. The orchids in particular are carefully monitored by local enthusiasts.


---
FAUNA

The banks and undergrowth provide shelter for a variety of wild animals - foxes, rabbits, squirrels - and it has even been reported that pine martens live in the quarry. It seems that some of these creatures were 'rescued' by animal rights activists some years ago, then released in the area. True or false?! Let us know if you see one.

---
INSECTS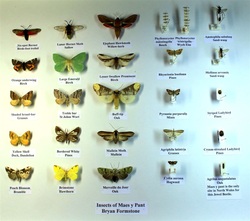 The 70 acres or so of land supports countless millions of insects, from Acorn weevils to Zebra spiders .... they all play their part in the biodiversity of the quarry and in the coming years, the plans that are being put into action will encourage the right balance of insect life to support the biodiversity and ecology of the land. Love them or hate them, the creepy-crawlies are invaluable creatures which help maintain the balance necessary for other species to thrive. There are some spectacular dragonflies in the summer, as well as beautiful moths and butterflies.

---
REPTILES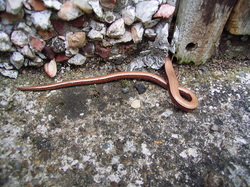 Slow worms can be seen slithering in quiet, dark places, or basking in the dappled sunlight away from predators and prying eyes. There are also grass snakes and may be adders too - however adders are very shy, and will hide away from any potential enemies, including people! Their bite is about as strong as a wasp sting, but not life-threatening .... the last person recorded dying from an adder bite in the UK was in the 1960's

---
FUNGI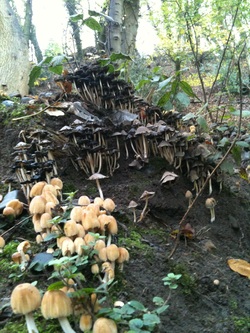 In the late summer and autumn, especially in warm, damp conditions, there is normally a spectacular display of mushrooms, toadstools, puffballs and earthballs in Maes y Pant. Most are edible, but the odd one may well be deadly poisonous so they should all be treated with respect, and left alone!
---
BIRDS

Maes y Pant has varied habitats to support a diverse bird population. From raptors such as large buzzards and sparrowhawks, to the tiny goldcrests; green and greater spotted woodpeckers; members of the crow and thrush families; tits, finches, and warblers all entertain visitors with their songs and cries. And at dusk and night-time, the owls can often be heard hooting. Unwary pigeons become fodder for foxes and larger birds of prey - occasionally peregrine falcons streak through the trees and steal a meal.

---
GEODIVERSITY

The site is on the edge of a delta. The Alyn valley was carved out by glaciers which brought huge quantities of material from higher up the Clwydian range before depositing it as it lost velocity and seeped onto the ice sheets which covered the Cheshire plains. The central region has been subject to significant disturbance due to human intervention, but the perimeter of the site and indeed the lower levels have an interesting story to tell:
igneous rock = volcanic origin;
red sandstone = Triassic period;
Coal slag = coal measures;
limestone = fossils identified (same as Llangollen) and would have been a coastal region.
For the most part, soil profiles are non existent as the ground is still recovering from quarrying, but as vegetation is starting to establish, very thin soil layers are evident, with varying qualities of soil becoming established.


---