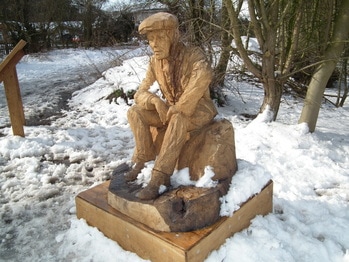 FRIENDS OF MAES Y PANT 4TH ANNUAL MEETING
​
Our 4th annual Friends meeting will be held at Church House on Tuesday 17 April 2018 at 7.30pm. We will report back on current issues and developments and take Friends views of actions we should be taking. We also hope to have a guest speaker which will confirm at a later date. All are welcome. If you aren't a Friend and would like to join up them please complete the attached form. It's still only £10 per year or £15 for a family membership.
FRIENDS OF MAES Y PANT 3rd ANNUAL MEETING

A reminder that we have our 3rd annual Friends meeting on Monday 11 April, to be held at Church House, Gresford at 7.30pm. This is an opportunity to join the Friends and hear about future plans as well as giving us your ideas about what you think we should be doing which will benefit the community.
FRIENDS OF MyPAG 2nd Annual Meeting

The meeting takes place on Tuesday 12th May at 7.30pm in Church House, Gresford (that's opposite the NORTH gate of All Saints Church, between the Yew Tree and Griffin pubs).
We'll report back to FRIENDS on progress over the last 12 months and would like to hear your comments on how you would like to see things progress in the future. As we want the whole communities of Marford and Gresford involved, we would really welcome your ideas. And there will be a cup of tea or coffee!!


A quick update on current issues. We've installed some gym equipment, which is open for any one to use and can be used by all abilities. (I know because I've had a go) and they're out of the way so you don't feel anyone is staring at you. The location is signposted, so long as the notices survive. We will definitely be starting on the pond, which should be no later than September. We will let you know when we have something definite as I know one or two of you have
expressed an interest to help. We have also applied for a grant to add a 'finer' surface to the 'all abilities' route. This was completed to specification but many of you are not finding it as easy to walk on as you should do.



We hope you've been able to enjoy walking in Maes y Pant recently. We've been blessed with a large number of orchids this year (mostly common spotted but some bee orchids as well) and plenty of butterflies. A walk around the meadow area at the back of Quarry Brow has been a joy. We have some new information boards, which will provide more information about different aspects of the environment in Maes y Pant and more benches in hand. If you wish to sponsor a bench then please contact Sue Kelly at quarrykelly@hotmail.co.uk


MyPAG will have a stand at the Gresford Festival on Bank Holiday Monday August 25th and we'll be pleased to meet you there. The Festival is being organised by the Gresford Trust, but we, along with other organisations, have agreed to sell raffle tickets. The more we sell the more MyPAG will get a percentage of the profits. You can buy these from a number of local organisations but if you buy from us then that will help increase our percentage of the profit. So if you want any, please send an email to trevorbritton@btinternet.com or ring Trevor on
01978 855266 and he'll be pleased to sell you some. £1 each, a fiver for a book of 5. The draw is on the day of the event.

* * * * * * * * * * * * * * * * * * * * * * * * * * * * * *


​