PLANT SALE AND COFFEE MORNING 20/5/17
It's that time of year again ..... our annual fund-raiser and social event has been arranged for Saturday 20th May, 10am in Church House, Gresford and we look forward to seeing as many of you as possible there. We will be grateful for donations of any plants, cuttings and seedlings that you can spare. All funds raised will go towards maintaining Maes y Pant, and we always look forward to hearing your (constructive) ideas, comments and suggestions for future work and improvements.
So please come along and join us for tea, coffee, juice, teacakes and biscuits, cake stall and raffle and to donate / sell / buy lots of plants.

HOG ROAST April 8th 2017
Thanks to a grant from the Big Lottery 'Community Celebrations' award scheme, Maes-y-Pant are holding a Hog-roast close to the car park on Saturday April 8th from 1.30pm to celebrate receiving a 'Green Flag' award for the site. Also hopefully, to celebrate completion of the childrens adventure play area.
We are inviting all those people who have helped over the past six years to get Maes-y-Pant up and running - people like the Friends of Maes-y-Pant; Gresford Community Councillors; Maes-y-Pant Board members, and neighbours of the site as well as other individuals who have supported us so strongly. Numbers are limited and invitations will be sent out shortly, so if you receive one please be sure to respond so that we can cater accordingly. There are likely to be over 200 people attending and we will need to maintain a list of acceptances to make sure everyone who replies to the invitation is fed!
For people whose email addresses we have on record, you will be contacted electronically. Where we only hold addresses, you will receive a letter before the end of March.
​We look forward to meeting you in Maes y Pant on 8th April, and thank you for your continuing support.
And please, bring the sunshine with you!! ​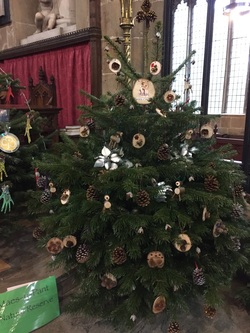 BIG LOTTERY COMMUNITY CELEBRATIONS 'HOG ROAST' on SATURDAY APRIL 8TH

The 'Big Lottery' have awarded Maes y Pant funds to hold a Community Celebration event, to celebrate the site receiving a Green Flag award. It has been decided to hold a Hog Roast on site, and the date has been arranged to suit two other events happening early in 2017. These are the removal of swathes of Corsican Pine trees (these will be replaced with native broadleaved trees, or maintained as clearings); also the installation of an adventure play area for young children which should be completed before 8th April.
The Friends of Maes y Pant, volunteers who help out on the site and others who have supported the purchase and development of the site will receive details and invitations in February.
​

​
ALL SAINTS CHURCH GREFORD
CHRISTMAS TREE FESTIVAL
1-7 DECEMBER 2016

Along with 35 other local groups and organisations, Maes y Pant is participating in the Christmas Tree Festival in All Saints Church which takes place from 1 December until 7 December, from 10-5 daily, 10-4 Saturday and Sunday.
Well worth a visit, lots of effort has gone into decorating the trees and they look splendid in the wonderful, atmospheric setting of All Saints. Our thanks to Joyce, Jenny and Gordon for their creative decorations!
All proceeds are being donated to Hope House and Nightingale House Hospices.






GRESFORD FESTIVAL SUNDAY 11TH SEPTEMBER 2016

Come along and join in the fun at Gresford Festival on 11th September, 12.30-5.00pm.
Maes-y-Pant will have a gazebo close to the tennis court, where you will be able to try your luck at a Tombola; there is a Treasure Hunt for children; we'll have some plants for sale, a display board plus lots of information on what MyPAG (Maes-y-Pant Action Group) has achieved so far this year, and what plans we have for the near future. And we have many!

BOOT CAMPS AND SENIORS FITNESS GROUPS
Thanks to the generosity of our funders, we have some pretty useful exercise equipment in Maes-y-Pant, and we hope to site more equipment as and when funds allow. The Woodland Gym area is at the bottom of the steps on the BLUE footpath. Claire Sutcliffe of Time2Train runs a Senior's Fitness group every Wednesday afternoon 4-5 (3-4 after the clocks change in October) , suitable for those who feel the need to keep moving, but not quite up to BootCamp standards. Age is no barrier, without giving too much away we have two increasingly fit and very impressive 80+ year olds in the group as well as one or two 30 years younger! Meet in the carpark at 3.50. This project is supported by ActifWoods. Claire also runs Bootcamps on Friday mornings at 9am, and Wednesdays at 6pm until fading light becomes a problem. Claire is a highly qualified, fully insured BTF Level 3 qualified coach and personal trainer, and a highly successful triathlon trainer and competitor.
And Claire lives in the village, we are very lucky to have her support.
For further information contact Claire on 07834 494818

PLANT SALE AND COFFEE MORNING SATURDAY 21ST MAY 2016
Please come along and join us for our annual fund-raising event on Saturday 21st May
in Church House, Gresford (LL12 8RG) . Admission £2, accompanied children free.
Tea, coffee, juice, scones, teacakes, biscuits included.
​There will be (as you would expect!) a plant stall: also cake stall, bring and buy stall, and a raffle.
Proceeds for benefit of Maes-y-Pant projects and running costs.

THANKS TO EVERYONE WHO SUPPORTED THE EVENT, WE RAISED ALMOST £400 FOR MAES-Y-PANT FUNDS!!
---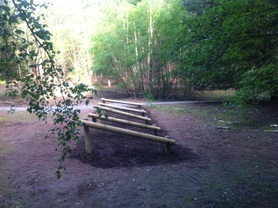 VOLUNTEER SESSIONS AUGUST AND SEPTEMBER
30th August
- Scything and raking hay in the meadow (behind Pant Lane). Meet at Main Entrance at 9.30am, or come up to the meadow and find us. If you'd like to try scything this is the opportunity - you can learn how to scythe yourself, or help with gathering up the hay.
Early September -
Help needed to earth up the sides of the pond where recent heavy rain has washed the sandy soil away, revealing the mesh covering the pond liner. Contact us via the form on this website for dates when working parties plan to tackle the work, which will be weather dependent.
27th September
- Main Entrance, 9.30am - help to plant cowslip and foxglove plants, also to clear about 4 patches in the meadow to sow some more wildflower seeds.
All are welcome to come along and help at these events. The planting and seed sowing in particular would be a good project for younger volunteers to help with, and we would be very happy to have them join us.
13TH SEPTEMBER …. GRESFORD FESTIVAL
Come and visit the MyPAG stand at the Gresford Festival on September 13th. Find out more about your local community recreational facility and the people behind it: see a display of the entries into the Young Peoples' Artwork Design competition (winners will be announced at the Festival): find the buried treasure on the Maes-y-Pant site map. Learn about future plans, and how you can get involved in the project.
SUMMER HOLIDAYS ………. YOUNG PEOPLES' ARTWORK DESIGN COMPETITIONThe closing date for entries into this competition, which is looking for ideas from children and young people for art installations in Maes-y-Pant is 31 August 2015. Further details of the competition appear on the 'News from MyPAG' page.
VOLUNTEER DAYS 2015
Volunteer days will take place on 2nd Sunday monthly, from 10am to 1pm, commencing February 8th. Please meet in the car park off Pant Lane. There is always a variety of tasks to carry out, so plenty of choice and you won't be asked to do anything you aren't comfortable with. Don't worry if you can't arrive by 10am or can't stay for a full three hours .... any time you can spare during the morning will be really useful to the project, and you'll meet some of the nicest people!!2015 - FORWARD PLANNING!
Saturday 9th May:
We've booked Church House in Gresford for a fund-raising Coffee Morning and Plant Sale. Not for ages yet, but if you are tidying your garden this Autumn and in Spring, please think of us and let us have any spare plants or cuttings, or seedlings if you have been growing them and have too many .... we will be very grateful for such contributions that we may be able to sell to others to raise funds. We'll arrange collection / delivery nearer the time. AUTUMN VOLUNTEER SESSIONSThese will take place from 10am on the following Sundays:
19 October; 23 November; 7 December
Please come along and lend a hand, even if you only have half an hour to spare. Plenty of different autumnal tasks to be carried out, and you won't be asked to do anything you can't cope with.OCTOBER ACTIVITIESWeek commencing 21st October, work will commence to improve the surface on the green 'All-Abilities' footpath. Loose stones will be brushed off, and a smoother surface laid which will make the footpath easier for people using wheelchairs and pushchairs to get around. Please avoid areas where work is being carried out: keep dogs on a leash and comply with any notices and instructions from the contractors - these will be for everyon'e safety.

Three more benches are being sited on Wednesday 8 October, as well as four interpretation boards imminently. In addition a 'sit-up' bench has been ordered for the Woodland Gym area.

The benches are destined for the Meadow, the Pond, and the Woodland gym areas. The sit-up bench is being donated to us by Actif Woods/Coed Lleol, an organisation which promotes 'getting healthy the woodland way'.
Ann from Actif Woods has worked with Claire, of Time"Train, to set up 'Seniors' exercise sessions in Maes-y-Pant and currently Actif Woods subsides the classes. The sessions are £2, and take place from 3-4pm every Wednesday, meeting in the car park. The 'Seniors' participating so far are roughly between 50 - 85 years old, exercises are flexible enough to accommodate everyone and you can work as hard, or as little, as you are comfortable with. Everyone is welcome, - its fun, its sociable, and of course very good for you!


BRITISH HEART FOUNDATION - SPONSORED WALK IN MAES-Y-PANT
Thursday 25th September, 6pm.
Look out for posters about the above event, which is being organised by and in support of the British Heart Foundation. It looks like it will be a 4 mile walk, £10 entrance with funds raised going of course to the BHF. Further details from Sion Edwards (British Heart Foundation Cymru) 01745 888161; mob 07714 069128
email
edwardss@bhf.org.uk




SKIPTON BUILDING SOCIETY 'GRASSROOTS GIVING'
Throughout September
We have applied to Skipton Building Society's 'Grassroots Giving' initiative and Maes-y-Pant has been short-listed for funding! We received the following message:
"We have had hundreds of amazing applications and we've really loved reading about all the fantastic work going on in communities throughout the UK. To make it to the short-list stage you beat off hundreds of other applicants and were able to clearly demonstrate the positive impact you make in your local community.
In order to fairly allocate the 161 pots of £500, we're asking the public to tell us who they want to see receive the funding out of our 304 short-listed groups. An individual profile has been created for your group and it can be seen here:-
http://www.skiptongrg.co.uk/apply-for-funding/whos-applying/

Voting goes live on the 1st September and this link is also where you will click through to begin voting to receive the donation.
Voting is open for a month and so please spread the word to your group, family and friends in order to gain as many votes as possible. "

* * * *


Free exercise sessions for overs 50's organised by Actif Woods will start on Wed 13th Aug 4pm-5pm for 6 weeks.
Claire Sutcliffe of Time2Train will put those of us in our 'late youth' through our paces! Essential to book by emailing
claire@time2train.me.uk
or calling Claire on 07834 494818
Where do we meet? Entrance to Maes-y-Pant community woodland off Pant Lane, Gresford
What will we do? Light exercise suitable for all abilities; Work at own pace; Exercise tailored to the individual; Power walking ; Mobility; balance and strength training.
What should we bring? Essential – comfortable clothes and suitable footwear
Optional – gloves, walking poles and something waterproof to sit on
Friends and family !
Feel the health benefit and above all HAVE FUN

http://www.coedlleol.org.uk/
http://smallwoods.org.uk/
---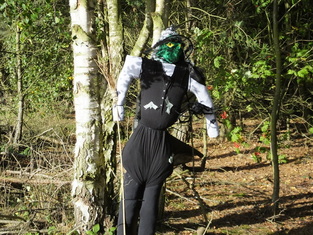 MARFORD GUIDES will be handing out leaflets at Gresford Trust Fun Event on Bank Holiday Monday (and hopefully receive £2 back!) to advertise this year's Scarecrow Trail.....they want it Bigger and Better!
Leaflets and Guides will be at the MyPAG table advertising the event, with maybe a Scarecrow for support!
UNFORTUNATELY THIS EVENT HAS TO BE POSTPONED, REVISED DATES WILL BE ADVISED ASAP.

---
VOLUNTEER DAYS IN AUGUST - Volunteers are invited to come along to help out for an hour or two on Sunday mornings throughout August to do various maintenance jobs in Maes-y-Pant. Meet at Pant Lane entrance from 10am. A variety of tasks need to be done, including scything, keeping informal pathways clear, work to tidy the site entrance. Don't worry, you won't be asked to do anything that you don't feel able or qualified to do.


WOODLAND GYM - two more pieces of equipment are now being sited on 4th June, so look out for fliers and posters giving details of Claire Sutcliffe's 'Time2Train' sessions, where Claire will be on site to give free advice and guidance on safe use of the equipment, and on how you can get the best out of your exercise in the Woodland Gym. Don't forget, it's best to register with Claire either by phoning her on 07834 494818 or email Claire@Time2Train.me.uk so that she's expecting you, but it's ok to just drop in on the day provided you are prepared for a short wait for attention. Look out for directional signs from the main gate to the 'Woodland Gym' site.

WREXHAM WALKING FESTIVAL runs from 1 - 7 June, with several circular guided walks around the Wrexham area. It's free to participate, but you need to register as numbers are limited. There are leaflets at the entrance to Maes-y-Pant giving details, or you can visit the website on http://www.walksinwrexham.com/ for more details.

GRESFORD VILLAGE FESTIVAL
Volunteers from Maes-y-Pant will be participating in Gresford Village Festival which takes place August Bank Holiday weekend at the Gresford Memorial Hall Trust site.
Come along and visit our display - see what's been happening over the past two years, and learn about future plans!

SCYTHING COURSE
Sion Jinkinson is coming to Maes-y-Pant between 10am - 3pm on June 21st to demonstrate and train volunteers to work with scythes. Places are limited, but if you would like to be involved please get in touch via the 'contact' address on the website or email quarrykelly@hotmail.co.uk . We are limited to 10 trainees, and 2-3 hours of your time should be sufficient. Scythes wil be provided.

WOODLAND GYM
Equipment should all be installed by the end of May, and Claire Sutcliffe of Time2Train will be running some sessions aimed at advising people, experienced or not, on how to use the equipment safely and effectively.
Provisional dates for these sessions in June are:
Mon 9th 11am - 1pm
Thurs 12th 5pm - 7pm
Sat 14th and Sun 15th 9am -11am
There will be posters and fliers about these sessions available nearer the time . It would be helpful if you book ahead, but it's ok just to turn up on the day.


WORK TO THE BELLMOUTH OF THE CAR PARK will be taking place from Sunday 27th April for around one week.
Please be aware that the CAR PARK WILL BE CLOSED for the week, or until work is completed.
For your safety, please respect signs and directions from workers on site.

FRIENDS INAUGURAL MEETING April 1st 2014, 7.30pm in Marford Community Centre.
This first meeting is open to anyone wishing to find out what's happened so far, and what is planned for the future of Maes-y-Pant.
Coffee and cake will be served, and there will be an opportunity to sign up as a 'Friend' of Maes-y-Pant.

COFFEE MORNING

ALL SAINTS CHURCH is organising a Coffee Morning for the benefit of MyPAG funds.
This will be held in Church House, opposite the North Gate of Gresford Church, from 10am - noon on Saturday 15th February.
There will be tea and coffee, crumpets and tea-cakes, a raffle, cake stall, and a display of the Maes-y-Pant project. Directors of Maes-y-Pant will be on hand to answer any questions you might have about the project.
Donations to the cake stall and raffle will be greatly appreciated!



FORTHCOMING VOLUNTEER DATES in 2014:
The dates are :
Wednesday February 12th;
Sunday February 16th;
Wednesday February 26th
Sunday March 2nd;
Wednesday March 12th;
Sunday March 23rd

Each 'event' will start at 10 am and end about 1pm for each of the days. We will meet at the Pant Lane entrance. The first meet tasks will include:-
ensuring footpaths are clear of debris and safe to use:
removing seedlings that might choke off healthy plants;
siting new bird-boxes;
mulching, brushcutting and chipping;
maintenance of landscaped entrance area;
walking the formal and informal (unsurfaced) routes clearing obstructions and weeds
planting beech hedging along car park fencing
litter picking.

EVERYONE WELCOME! TASKS ARE MANY AND VARIED, YOU WILL ONLY BE ASKED TO CARRY OUT TASKS THAT YOU FEEL ABLE AND WILLING TO DO.



WATCH OUT IN SEPTEMBER FOR......... Maes-y-Pant has been short-listed for an award in the Lloyds Bank Group Community Fund, which if we win a major award for our area means a £3000 grant to be used to create a wildlife pond in the quarry. Announcements will be made nearer the time, but a system of voting, much of it on-line, decides the winner of the award. Voting starts after some preliminary publicity in September and carries on for around 5 weeks, with winners hearing about their awards in November. So please watch out for the opportunity, tell your friends, and let us have your votes!

HORSE-LOGGING .... We're looking into trying to find funding for a horse-logging project in Maes-y-Pant. There are many weak trees around the site that need thinning, and by using horse-loggers we not only let local people and particularly children see a traditional skill in progress, but we also have the work done without the intrusive noise and heavy machinery damage inflicted by modern, 'efficient' methods. And disruption to existing wildlife will be minimalised.
Early days yet, but watch this space .....


JULY 22nd 2013 - One day first aid course delivered via Groundwork Trust .... contact quarrykelly@hotmail.co.uk if you would like to participate in a future training course.

VOLUNTEER DAY JULY 7th 2013 - If you have an hour or two to spare on Sunday July 7th and feel like a workout, come along any time between 10am and 3pm and lend a hand to back-fill the steps leading up to the viewpoint. As those of you who use the steps will realise they need levelling off, and the more help we get the faster the work will be completed!
Please remember, the board of Maes y Pant are all volunteers but we can't do everything ourselves! The quarry is a community facility and we welcome, indeed depend on community input so please come along and lend a hand, even for just half an hour.

CAR PARK
Work to construct the car park should commence early in August, so look out for parking / access restrictions which will be in place for a while.
A planning application has been submitted to site a small (10'x8') container on site for tool storage when funds are available. All these projects should be completed before the end of the summer.

FIRST AID COURSE

Thanks to those who signed up to do a First Aid course ... our eight places are now taken up for 22 July. If you would like to be considered for a future course please contact us via the website and we will see what we can do ... we are dependent on grant funding to participate but if we have enough names on the waiting list, hopefully this can be arranged!


MAY 17th 2013 - Arranged through the B2C (Business to Community) scheme, a team from ScottishPower will arrive at the main entrance on Pant Lane and spend the day clearing, tidying and improving the area. We hope for fine weather!
The work is being carried out at no cost to MyPAG, and we are very grateful for this support which will improve the area for all users.
PLEASE DO NOT PARK ALONG THE FRONT OF THE PANT LANE ENTRANCE AREA THROUGHOUT THE DAY AS ACCESS WILL BE NEEDED AT ALL TIMES.


By the end of February 2013:-
Completion of all footpaths on schedule
Nine benches will be sited
Interpretation boards designed with assistance from pupils from All Saints School Gresford, and Rofft School Marford - should be sited at three points on the site by 28 February 2013
Panorama board and stone base will be constructed at the top of the viewpoint footpath
New fences and access gateways in place at entrances
Waymarkers will be on site by mid-March 2013
Notice board will be sited at the main gateway so please keep an eye on the board for details and information of what's happening in the quarry.

And look out for opportunities to take part in Training Days; Working parties; Wildlife Observation Projects; Pond Development Team;

PROGRAMME
WEDNESDAY 21 NOVEMBER

09:30 The One Show Team arrives to meet MyPAG volunteers, Woodlands Trust staff arrive.

10:00 We would like volunteers to arrive from 10am. In the morning we'd like to get the front section cleared so need people able to help us with the more physical work

11:30 As more volunteers, and some of the younger volunteers arrive we'll get planting in the prepared area

14:00 The BBC Outside Broadcast van will arrive with their crew to set up lights and cameras through the afternoon

16:00 We'll wrap up work at the site and take a break before the evening. Hopefully by then all the trees will be in the ground

17:30/17:45 MyPAG members and The One Show crew come back to the site to do a few bits to prepare the area for the live section

18:30 members of public to come back for the live programme.

Anyone coming along to please wrap up warm for the night as we'll be there until 20:00

19:00 The One Show begins on BBC One –they will cross to us at points through the programme

20:00 Off air and pack up.




NOVEMBER 2012
w/c 5th November - 420 saplings from the Woodland Trust Jubilee Project will be delivered
w/c 19th November - BBC 'One Show to the Rescue' team in the area visiting groups and businesses to drum up support for the tree-planting, which will take place on 21st November and include a live broadcast from Maes-y-Pant during transmission of the One Show programme.

SUNDAYS THROUGHOUT NOVEMBER 2012
10am - 3pm, weather permitting
Volunteers required to help clear brash and prepare the site for sapling planting. Also walkers prepared to act as site wardens during the day. Help collect litter on your way around, keep your eyes open and let us know what birds, animals, flower species you may see so we can keep a record. All ages welcome!